Authentic assortment of Indian Spices including Culinary Herb Leaves, Yellow Turmeric Finger , Nutmeg, etc., are offered here!
An Introduction
Indian cuisines are popular among globally due to their delicious aroma, unique colors, amazing taste and mouth-watering flavor. The secret behind such a delicacy is nothing but the rich spices found on land. With the history of thousand of years, Indian spices have been loved all over the world and have always been high on demand due to the same reason. Seizing the opportunity, we, Vasumedha Traders, established a farm and began producing a wide variety of Indian spices over our land. By following organic farming methods, we are recognized as a reliable manufacturer, producer and exporter in the food industry today. Each and every product sold by us meets the industrial quality standards because we ensure a perfect blend of modern tools and traditional farming methods is used in our production process to achieve the best assortment of Culinary Herb Leaves, Yellow Turmeric Finger, Black Pepper, Cassia Bark, Red Chilli Powder, Culinary Herbs, Cumin, Dry Turmeric Finger, etc.
We Only Deal In Foreign Countries!
&
"We are accepting only bulk order quantity."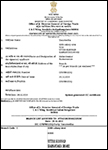 Get in touch with us